Optimal Cable Management?
To combine is to profit. More Flexible, less costs. A well-thought-out planning and installation is an investment that will pay for itself in the long run!
Previously, wire cable trays were mounted above the network cabinets containing the copper data cables. Subsequently, several fiber optic cables were added, with the result that the cables eventually came down due to the weight of the cables and/or due to incorrect enforcement of the maximum carrying capacity. Over time, this can create a difficult-to-manage tangle of copper and fiber optic cables above the cabinets. A well-thought-out planning and installation is an investment that will pay for itself in the long run!
This created the separate fiberglass gutter system that meets all requirements (such as bending radius and fire safety, among other things). After this, the separation of fiber optic cables and copper data cables was a fact and these cables were then mounted next to or above each other on the ceiling or on the cabinets.
In ten years, the fiberglass gutter has grown from 50 mm wide to no less than 600 mm! The two-part (copper and glass separation) system will certainly remain in the future, despite the fact that the fiber optic cables have become more robust.
Installation options
Besides the fact that data cabling must be installed above the cabinets, situations now arise that require special attention. The static load-bearing capacity of the ceiling becomes more and more a problem due to the increase in weight, especially when many changes take place, for example the increase in boreholes during the many installations.
Placing the cable trays on top of the cabinets is not always the best option when changes take place regularly (for example with data hosting). Adding and removing cabinets with different dimensions or replacing cabinets from other manufacturers will have consequences for the cable trays. There is a clear trend that the cable management is built up self-supporting from the bottom. There are already several system providers on the market here.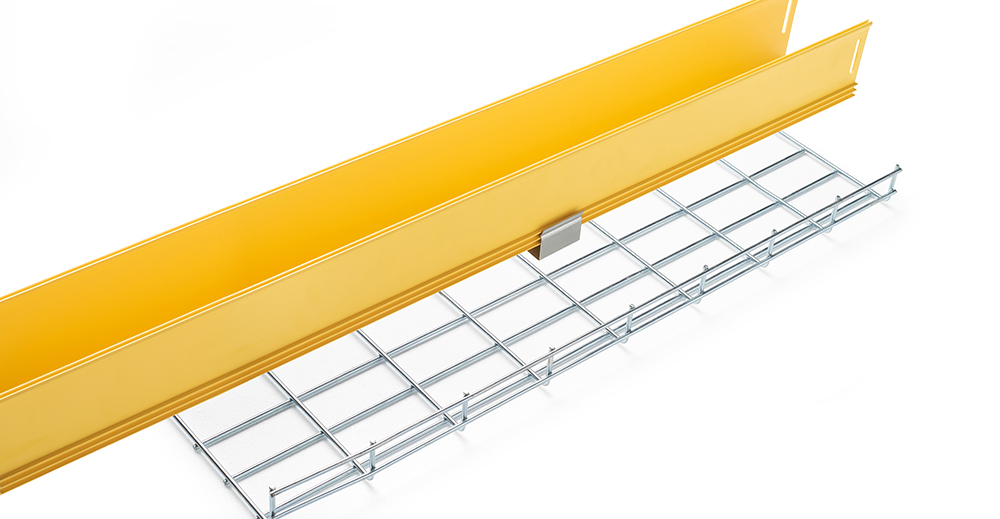 What else is important in the correct planning for the fiberglass gutter?
Despite the fact that data cable ducts have been produced completely halogen-free for fire safety reasons for years, the suppliers of PVC (halogen-containing) cable ducts are still questioned. Completely illogical and in a number of countries even banned in public buildings! It is therefore important to look at standards such as: UL94VO, ULA2024A and ROHS when planning correctly. In addition, it is important to know how many and uncomplicated the parts are available and how easy the installation is. Especially in the case of changes that may take place in the future.
New, but inevitable, is a trend towards recyclable materials. Each future planned data center is planned and built on the basis of environmental friendliness (green data centers). Here too it is important whether the correct material is used!
Conclusion:
Complies with UL, ROHS and other requirements and certifications
Use fully recyclable material – cradle to cradle
Be open to flexibility (larger choice of parts and quantities)
Demand simple and fast installation
Ask for fast delivery time when purchasing the necessary parts
Combine infrastructure options for optimization
Operational Excelence
Mulder-Hardenberg has been investing in knowledge, quality and a personal approach since 1927. We supply technically high-quality products and work together with customers on a total solution. The connecting element in connectivity for almost 95 years!
Solutions for industrial wire cable management installations, data center & server room cable management challenges and Fiber Optics distribution.
Mulder-Hardenberg supplies industrial quality products, from standard products that are widely available to products made especially for customers, including completely integrated systems. Most standard items, and special items if necessary, are stored in the warehouses in Haarlem (Headquarter) and Frankfurt, where the offices are also located.
Can we help?
Optimize your efficiency and profit by combining?
Looking for efficient cable management of data cables and fiber optic cables? Call or email us for a suitable solution for you:
Mulder-Hardenberg,
T.: +31 (0)85 800 3700,
infonl@m-h.biz