A secure and scalable network infrastructure.
Deliberate draft saves a lot of energy
Data centers are becoming overcrowded and available capacity is limited. To monitor the security and performance of the network, this requires innovative scalable solutions. InterConnect is an internet service provider and focuses on the business market. Within this company, the demand for servers increased and space was limited.
InterConnect is an internet provider for the commercial market. The company offers modern internet services from a completely independent data center. InterConnect's services include domain registration, email delivery, website hosting, web hosting, broadband ADSL, Email Anywhere with Hosted Exchange and hosting complete servers in their own data center.
The challenge
Customers can rent space from InterConnect to place servers for internet services. Demand is increasing, the company is growing and InterConnect is struggling with a lack of space. There is a need for increasingly powerful servers. This is not possible in the available space without problems caused by heat and the required cooling. In addition, it is imperative that the security between the servers and the various customers is guaranteed.
Mulder-Hardenberg has taken on the challenge of developing an optimal solution for this problem.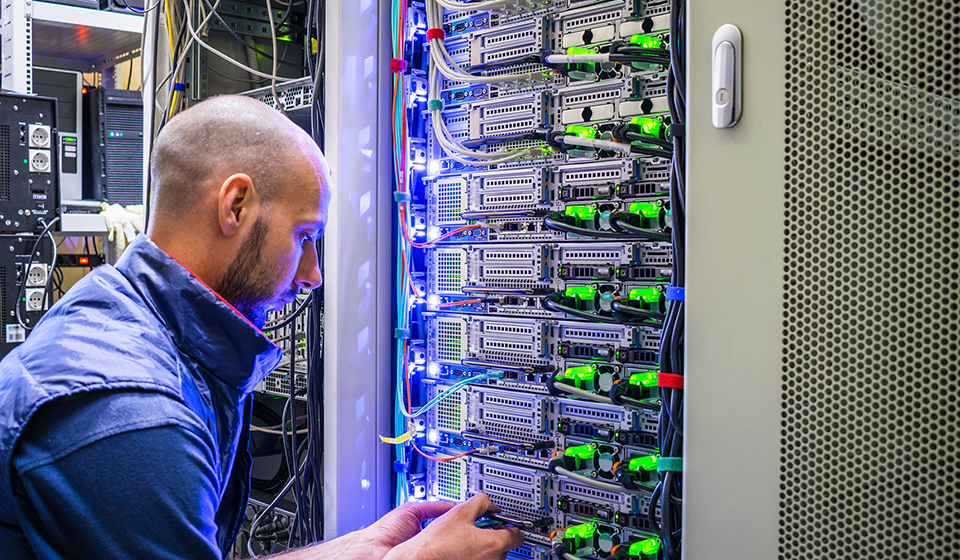 The solution
Mulder-Hardenberg supplied seventy-two 19" 42U high cabinets. For the colocation customers, cabinets with extra compartments were used so that the servers are separated from each other because the cabinets are physically divided. This is necessary for security between the customers using the colocation.
The technicians of M-H have provided the necessary cooling with the so-called 'cold aisle' set-up. This technique makes efficient use of the cool air between the rows of cabinets, which have doors with a degree of perforation greater than 83% that optimally cool the servers.
In addition, the improved, separate discharge of heated air ensures that cold and warm air cannot mix, guaranteeing the intake of cool air.
The implementation
An optimal cold corridor set-up has been achieved by closing off the space between the rows of cabinets on all sides. This prevents the removal of cold air by any means other than via the server cabinets and the servers present. The roof of the space in between consists of transparent polycarbonate panels which allow the necessary light through. These panels close off the area between the rows of cabinets in the cold corridor at the top.
M-H has installed sliding doors with magnetic locks to the entrance to the cold corridor. The magnetic lock on the door can be opened with a card reader, swipe card or code lock. A signal gives the open/closed status which is registered centrally, so that it can been seen whether the door is open or closed.
The result
InterConnect is very satisfied. Not only with the result, but also with the competitive price for which Mulder-Hardenberg was able to do the work. In addition to the achieved space efficiency, the work also saved 30% to 40% energy.